Showroom CLOSED for Easter weekend.
PLEASE NOTE THE WATFORD SHOWROOM WILL BE CLOSED FROM FRIDAY 6th APRIL TO MONDAY 9TH. WE RE-OPEN AS NORMAL ON TUESDAY 10TH APRIL.
HAPPY EASTER.

News (6th November)
Quality ready made jewellery

We have a limited stock of some high quality Sterling Silver jewellery at great prices. Click on the sections above to see pendants, earring and bangles. All the jewellery pieces are made to a high standard using Sterling silver, semi precious stone and Cubic Zerconia (CZ) stones.
Buy 3 or more in the range to receive a 25% discount. This makes them great value for Christmas. Ready Made Jewellery pieces.
News (5th November 2008)
Blog up and running

We now have a blog (weblog) as part of our site. We will be posting regular information and articles on jewellery making and relevant news here. If successful we are hoping you will use this regularly to keep up to date with whats happening at our company and gather good jewellery making articles aimed to help you. We also invite you to post comments on the blog. You can find our blog link on the grey bar under our logo on each page of our website. Blog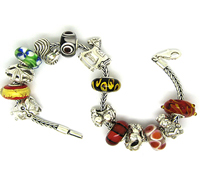 News (30th April 2008)
Pandora Style Beads & Bracelets

Hot new beads just in. Highly fashionable and desirable charm beads. These beads have a metal core with a large hole which can be threaded onto Pandora base bracelets to create individual and personalised jewellery. Pandora beads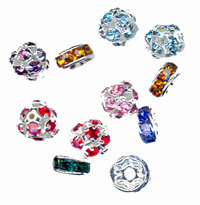 News (April 2008)
Coloured Crystal Rhinestone Rondelles and Dragonballs
We have just received new colours of the ever popular crystal rondelle and ball bead range. These make great spacer beads and add colour and glamour to your jewellery.
Coloured rhinestone rondelle beads.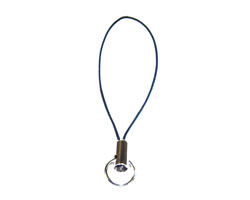 News (29th March 2007)
MOBILE PHONE STRAPS
Just in. Phone straps for bead attachments. Very faishonable way of personalising mobile phones.
Click here for Phone straps.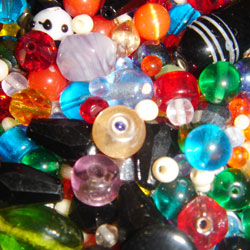 News (30th Jan 2007)
BEAD CLEARANCE
Check out our bead bargains here. Glass beads, stone beads, seed beads etc.
CLICK HERE for bead sale.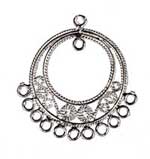 News (20th May 2006)
Sterling Silver Fillegree multi-row findings.

Take a look at these finely detailed components. They can be uesed for making multi-drop earrings or pendants. CLICK IMAGE for the full range.
News (17 May 2006)

New "Murano style" silver foil glass beads from China.

We have just received new stocks of these beads in many shapes and colour mixes. These beads are of good quality and execellent value. We've already placed our next order with our manufacturers because we like them so much. CLICK HERE Silver foil beads.
News (22 April 2006)
Sterling Silver & Gold Prices.

Please take note that due to the fact that Silver and Gold prices have been increasing significantly over the last year and are still rising, we have been forced to increase our prices. We have tried to minimise the increases as much as possible and have frozen the prices on as many product lines as we can.
Please be aware that due to fluctuations in the market we reserve the right to adjust prices accordingly. Please use the prices shown on our online catalogue as being current. Some prices displayed in the printed catalogue will now be out of date.
News (10th October 2005)
New Catalogue and price list out soon.

Our new catalogue is due to be printed soon and we are in the process of updating our Online catalogue with the new products and prices. This may take a few weeks, but you will notice some price changes. Aswell as prices going up we have reduced the priced of many items, mainly semi-precious stone beads and St.Silver items. Keep an eye out.
News (30th April 2005)

NEW PAUA SHELL BEADS.

Take a look at these great Paua Shell bead strings. With anything made of shell being popular at the moment, these are a great buy. CLICK HERE for Paua Beads.
News (11th April 2005)

NEW RANGE OF ORGANZA BAGS JUST IN.

We have just received new stocks of great value drawstring Organza Bags/Pouches, available in a large range of colours. These are a great and modern altenative to presentation boxes to sell your jewellery in. CLICK HERE for Organza Bags
News (4th Dec 2004)
NEW LOWER PRICE ON SWAROVSKI CRYSTAL PRODUCTS AND MORE COLOURS.

We have just introduced more colours to our Swarovski crystal range and more importantly we have reduced the price to make them even more attractive. Click here for Swarovski Crystal
News (21st June 2004)
NEW SHELL PRODUCTS.

We have just received new stocks of mother of pearl shell pendants and beads. These are all the rage in this years faishon. Click on the link to see. Click here for SHELL!
NEW SHOWROOM ADDRESS
We are pleased to inform you we have now moved from our temporary premises(Wenta Centre) into our own permanent unit at the Empire centre, Watford. The move takes us just two miles from the temporary address.

Please see the Showroom location page for the full address. Please note the phone and fax numbers will remain the same.


Thank you for your patience and understanding.
News (3rd Dec 2003)
NEW FRESHWATER PEARL BEADS.

We have just received new stocks of freshwater pearls at amazingly low prices and good quality. Click on the link to see for your-self. Click Here.
News (17th Oct 2003)
NEW POLISHED AND ROUGH BAROQUE STONE BEAD STRINGS.

Large beads are in fashion at present. Look at our new range of large baroque bead strings and elasticated bracelets
This range can be found in the "SEMI-PRECIOUS STONE" section. Click here.
News (9th Aug 2003)
The On-Line Catalogue has been upgraded to make shopping easier and quicker.
Improved shopping experience

- Allows entry of product quantity in the main catalogue pages.
- Single Add to Cart button per page rather than one per product, enabling 'order form' style shopping pages. (Selected pages only).
- Editable shopping cart allowing quantity information to be changed.
- Repeat order / wish list facility allows cart contents to be saved and recalled in a later session